A whole post proves I'm a Fundamentalist Christian, leaving very little doubt about it.
The Atheologist: Don't Judge A Blog By Its Cover
, makes a very good argument about the apparent facade I have been trying to pull off.
The Atheologist does pride himself on his detective work, just look at his avatar: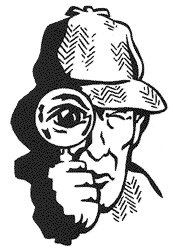 A few things I will argue about his research on me. I don't like conspiracy theories against Israel. I have a job, though I can understand his mistake, as I hide it very well. My wife doesn't even think I work. And he really needs to do something about his hearing if he believes I have a great singing voice.
I can't argue with the rest of his post because I might get accused of protesting too much.