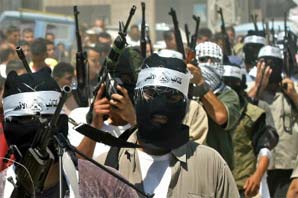 "
Canada said
Wednesday it was suspending assistance to the Palestinian Authority because the new Hamas-led government refuses to renounce violence and recognize Israel. Hamas responded that Ottawa's decision was hasty and unfair."
Of course the whiney pathetic Palestinians are going to cry like babies. They always do. They always make the wrong choice. They voted Hamas, they might as well voted in Al Qaeda. They were given fair warning that the West does not support TERROR.
This makes me really proud and happy
:
"CANADA has become the first state to announce a boycott of the new Hamas administration
, announcing an end to diplomatic contacts and a freeze on annual aid worth $A29.5 million."
Cutting diplomatic ties to terrorists and not giving them aid is a no brainer. Yet the Far Left Libs (I smell skunk just typing that) and many Arabs will cry "but they are a democracy." Sorry, it may have been a democratic vote (the terrorist lovers spoke),
but the result is a tyrannical leadership bent on the destruction of a civilized state. An entity with such a goal, is NO DEMOCRACY.