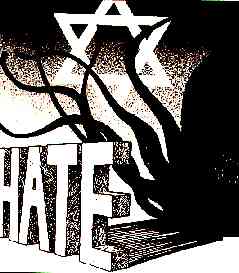 As some of you have already found out, I just started a new blog called
Judeophobe Watch
.
The purpose of it as stated in the blog header:
This site gives normal human beings a chance to debunk, refute, chastise, and debate anti-semitic postings from various Judeophobic web sites, like Crescent and Cross, for example. The cowards who spew their anti-semitic bull do not normally allow normal human beings to comment on their drivel.
When a blog search is made for those on the lunatic fringe like David Duke and Mark Glenn, I want my new site to be one of the search results. And hopefully the posts will have some intelligent comments on them, so that people doing searches can see that the premises of Joooo haters are seriously flawed, as is most the revisionist history and unsubstantiated rhetoric that goes hand in hand with the anti-semite's spewings.
Another reason to open for the Judeophobe Watch site, is that I think that my personal email exchanges with these idiots will become completely unnecessary, in that I now have forum to invite any Joooo hater to.
I also believe that by exposing Judeophobes in this way, it will show how ridiculous their ideas are.
For those who think Judeophobes should be ignored and that I'm only giving them a platform, my reply is:
should Hitler have been ignored in the 1920's?

Finally, another reason I am doing this is to keep the Atheist Jew blog on track: Fighting with individual anti-semites here, is just a little too out there I think, and probably many of my readers agree.
I want this blog focused on four things: Atheism, separation of church and state, layman's science, and the War on Terror (which includes of course the insanity of the Palestinian "cause" and their actions).
If you aren't on the
Judeophobe Watch
blogroll and want to be, please let me know, and I will blogroll you (providing you aren't a Judeophobe).
Right now, comments on that blog are not being moderated. I will only delete comments that are off topic and/or include baseless insults, are genuine spam, or comments that include very long copy and paste material. If I find myself having to delete a lot of comments, I will turn moderation on.
One more thing. I was nominated for a
JIB (Jewish and Israeli Blog) Award
in the category of "
Best Jewish Skepticism Blog
"
If you feel like voting for me,
GO HERE
.