That Pascal dude sure makes it tough for us Atheists. What is more important?: living the life of a righteous believer so that we can have an opportunity at life everlasting in heaven, or live a life that most likely will be just as righteous, but possibly being rewarded with an eternity in hell because we didn't believe in God or suck up to him.
First off, which God are we supposed to suck up to? There are over 3400 potential Gods to choose from according to
Godchecker.com
. Many Christians say, that according to their interpretation of the bible (written by many different men and maybe even some women), we must accept Jesus Christ to ensure our place in heaven.
Of course, the Christian cult than breaks off even more, and each sect has different rules to get into heaven, or stay out of hell. Most of these sects allow for do overs if you did something really bad, or even if you did lots of really terrible things, just as long as you die sincerely accepting Jesus as you personal saviour. Some sects say that Jews are exempt because we a chosen, we don't have to accept Jesus to get in. Of course, most say that Jews don't get in because we turned our back on Jesus.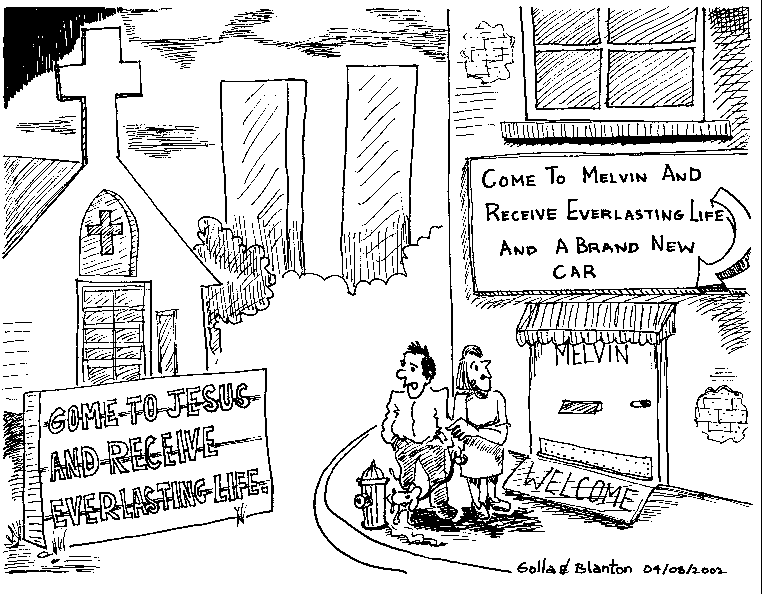 Then you have those Muslim, Hindu, Scientology, Jewish, etc. beliefs to deal with.
And many Muslims believe the suicide bombers are Martyrs, and they are the closest you can get to their God (personally I would think hell for them....but). Most Orthodox Jews believe that Jews must follow (or at least try as hard as humanly possible to follow) the 613 Mitzvot (commandments). Of course, you can't do that and accept Jesus at the same time unless you are Jew for Jesus, who by covering a couple of religions, take Pascal even more seriously than mono religious people.
You have the Buddhists who believe that some sort of Kharmatic force dictates what our next life is going to be. I still don't get where 6.5 billion people reincarnated from. It couldn't be people. Must have been insects. But what were todays insects in their past lives? At least if they are right, we don't have to worry about accepting God or Jesus, or Mohammed.
God, if he exists, got so fed up with people believing in biblical fairy tales, he tried to show a new generation exactly how easy it is to start a religion based on ridiculous claims when he guided the Mormons in their beginnings. But few realized the parallels.
When Christians like Ray Comfort ask, why not accept Jesus since you are not guaranteed to get into heaven without accepting him, ask him/her if you should also accept Mohammed and Allah too and the teachings of Joseph Smith as well. At least there is historical proof Mohammed existed, same with Joseph Smith. And we all know that according to South Park, Mormonism is the right religion, and only Mormons get to go to heaven.
Pascal was a Christian. I think he tested out at least 2 different Christian sub cults. He had a revelation when he had a near death experience in his early 30's, but it didn't stop the sickly Pascal from dying in his late 30's. He was a genius when it came to probability theory. Too bad he didn't know what we know today when it comes to the universe and evolution, or he would know that the probability that God and/or heaven exists is as close to zero as anything can get.
Some people say that all religions are just different paths to the same destination. I couldn't agee more, except the final destination is not heaven but "Dust In The Wind."
Getting back to betting on Atheism, I say that if God exists, he put absolutely no evidence on this planet or the universe to prove it to me. My bet would be that God wouldn't want people who were that gullible to be that close to him, in heaven. In fact, he would embrace only Atheists, who dealt with real evidence. He would only want to be with those don't believe in fairy tales. He needs the intellectual stimulation. He doesn't need dummies.
And if God doesn't exist, which of course he doesn't, Atheists like me can live our lives realizing that this is our only shot to be conscious beings, and we have the choice to make the most of it or the least of it.