......but I will turn the channel during the commercials.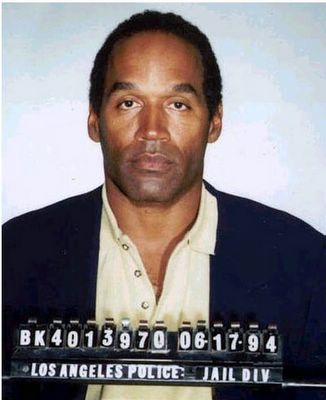 I watched the trial and I was disgusted by the outcome. They couldn't have have got a dumber jury if they tried. I don't know for a fact, but I would be willing to guess that most if not all the jury were Young Earth Creationists because they were the most gullible anti-science people put together outside of an Evangelical Church.
This is where I get to show my Atheist morality. Many people are convinced that God will take care of OJ, when his time comes. Well I'm not on that list. I can't say how I would react to such a tragic situation, and I hope I never will, but I'm pretty sure that if I experienced what the Goldman or Brown family experienced, I doubt OJ would be prancing around on golf courses, to say the least. I'm an eye for an eye type of guy.
Now back to the interview. I am fascinated by liars and frauds on TV and on the internet. I'm big on psychology too. I won't be buying the book though, not that this is a big deal......I rarely buy books.
One thing I've heard regarding what OJ is saying these days is that IF he did it, there was an accomplice.
Guess what?, I believe there was, and he (or she, probably a he though) can be tried from what I understand.
Is this OJ's way of getting back at the accomplice? I wonder who it is. Probably Al Cowlings. Maybe Kato Kaelin. Perhaps the deceased Robert Kardashian. Remember those names? It was the trial of the century.
I can wait for the interview, but I'm definitely watching it.